MARKETS
COMMODITIES
STOCKS
CURRENCIES
FUTURES
FIXED INCOME
SECTORS


LATEST AFRICA AND INTERNATIONAL

BUSINESS

NEWS AND HEADLINES.
Putin contests that Russia's increasingly provocative behavior is defensive, saying: "Everything we do is just a response to the threats emerging against us."

It seems that NATO's expansion is what really irks Putin: "We are not expanding anywhere; it is NATO infrastructure, including military infrastructure, that is moving towards our borders."

Putin has even described Ukraine's military as a proxy arm of NATO.



"This is not the army, per se, this is a foreign proxy, in this case a foreign NATO legion, which, of course, doesn't pursue the objective of national interests of Ukraine," Putin said at the end of January. "They have entirely different goals, and they are tied with the achievement of the geopolitical goals of containing Russia."




While some of the above statements are demonstrably true — the US has maintained military outposts, and NATO is expanding — Putin's comments speak to Russia's real interest in Ukraine.





Having Ukraine become a NATO ally would mean that the force Putin sees as his enemy would be resting comfortably at his front door, so manifesting Russian loyalists in this border state becomes very important to his cause.





The Ukrainian conflict is just the current venue for a bigger struggle going on in Europe. As more and more nations seek to fall in line with the prosperity and freedoms enjoyed in the West, Russia is reluctant to give up influence in a region that was once under its thumb.





And it's his fear of NATO and the West that makes Putin so dangerous. With Putin acting erratically, and grasping at straws to maintain his regional clout, he becomes more and more aggressive.





"Expanding NATO further into post-Soviet space is a red line with Russia, and the US is frankly not in a position to challenge it without running a huge risk," Greg Scoblete of RealClearWorld told Forbes in 2014.





"Put bluntly, Russia will be able to invade eastern Ukraine faster than the West could admit Ukraine into NATO to deter Russian aggression."





The alternatives to credit cards may not be so safe either.




Earlier this month, Home Depot confirmed that hackers had broken into its in-store payments system and stolen the credit card numbers of as many as 60 million customers – potentially the biggest breach of a retailer's computers. Will this latest in a long line of such breaches finally scare consumers into changing their shopping habits and credit card use?





Last year's breach at Target

TGT 0.43% provides an early indication that shoppers may now be more inclined to shy away from retailers who have lost their trust. Ordinarily after such breaches, sales have fallen but soon rebounded. In 2007, for example, the parent company of TJ Maxx, the TJX Companies

TJX 1.05% , suffered a massive data breach involving 90 million card accounts. Customers didn't care – sales were barely affected in the quarter when the breach occurred and rose 9% in the following quarter. But the fall off at Target persists. In August, the company reported second-quarter earnings of $234 million, compared with earnings of $611 million in the same period last year – a drop of 62%. And customer transactions fell 1.3% compared with the same period last year.




But avoiding Home Depot

HD 1.02% or Target, as some customers appear to be doing, won't protect you from breaches at other companies in the future. Data theft is big business in many parts of the world, and large-scale breaches will undoubtedly continue. With the rise of the "internet of things," there are more points of entry for thieves than ever – Gartner estimates that the number of nodes may grow to 26 billion by 2020.





The real question is whether the disenchantment with retailers who compromise customer information will translate into a change in the way consumers use their credit cards. It's too early to say, but the main alternatives to credit cards aren't particularly safe either, and have their own drawbacks.





Credit monitoring. In the wake of data breaches, the victimized companies often provide their customers with identity protection services like free credit monitoring, typically for a year. Home Depot announced such a program shortly after they discovered their recent breach. But monitoring services only detect fraudulent activity on your account after it has occurred, and they do little to block that activity. Further, they are simply one more place from which your data can be stolen. Last year, for example, the three biggest U.S. credit-reporting companies – Experian, Equifax and TransUnion – acknowledged that hackers had gained access to users' information, even posting online the credit reports of famous people, including Michelle Obama, former FBI director Robert Mueller, Ashton Kutcher, Beyoncé and Paris Hilton.





Reverting to cash. This solution trades the risk of credit card fraud for the risks of loss and theft. And it's inconvenient – for large purchases you must plan ahead, then go to your bank and withdraw the money you need.
Doing nothing. In some ways, this is the most attractive solution. Since the card issuer indemnifies users against losses, why worry? If fraudulent activity occurs on your credit card, the bank will make you whole. But this ignores the danger to your debit card, which can be used directly to drain your bank account even if, as in the Home Depot case, no PIN numbers have been compromised. With just a few pieces of easily found information like your Social Security number and date of birth, thieves can change your PIN number, create a counterfeit card, and use it to make debit purchases and directly withdraw money from your account.

By far the better solution is a combination of doing nothing about your credit cards and zealously protecting your debit card. Never use it as a charge card, anywhere. And don't use it to debit, either – not for groceries, not for gas, not for anything. Use it only as an ATM card at your bank. Charge everything to your regular credit card – and start racking up the air miles or other bonus points.

The objection to charging everything? Many people fear running up large credit card debt, with its high interest rates. But with today's online tools, you can pay off your credit card weekly. You will not only be regularly monitoring your statements for signs of fraud, but you will also get better control of your spending when you see precisely where the money goes every week. That is a far more effective and practical restraint on spending than the wishful thinking of a budget.

Be vigilant also about retailers and banks pushing more liability onto consumers. But until they do, you can confidently return to Home Depot and Target – why needlessly forgo the good value that both are known for? As one information security professional, who practices the solution proposed here, recently said to me about Home Depot, "I can't wait for the inevitable sale to lure customers back – there are some things I really need."

Glenn Kapetansky is Chief Security Officer for Trexin Consulting a management and technology consulting firm specializing in the application of advanced technologies
Follow us on twitter:
http://twitter.com/#!/Newgenafrica
Join our Blog: http://www.newgenerationafrica.com
Imagination is more important than knowledge. For knowledge is limited, whereas imagination embraces the entire world ..... Albert Einstein
Meet Strati, the first 3D printed car in the world
ICC to look into Central African Republic crime allegations - Prosecutor
The International Criminal Court will open a preliminary examination into crimes allegedly committed during the conflict in the Central African Republic, the court's prosecutor said in a statement on Friday.
"The plight of civilians in CAR since September 2012 has gone from bad to worse," said prosecutor Fatou Bensouda in a statement, adding that some victims of crimes, which included alleged killings and acts of rape and sexual slavery, appeared to have been singled out on religious grounds.
The court has had a separate investigation under way in the country since 2007. The preliminary examination announced on Friday could proceed to a second investigation if prosecutors find evidence strong enough to justify it.
-
Egypt army chief Sisi says to 'run for president'
Egyptian army chief Field Marshal Abdel Fattah al-Sisi, who deposed the country's first freely elected leader, has declared his intention to run for president, a Kuwaiti newspaper reported.
The widely expected move is almost certain to increase political tensions and anger Islamist militants who have stepped up attacks on the state since Sisi ousted Islamist president Mohamed Mursi in July after mass protests against him.
It will also deepen concerns that military men will again dominate Egypt after a 2011 popular uprising raised hopes of a civilian democracy.
The newspaper, Al-Seyassah, quoted Sisi as saying in an interview that he had no alternative but to meet the wishes of the Egyptian people for him to run.
"I will not reject the demand," said Sisi, who is seen as a decisive figure that can ease political turmoil that has hit Egypt's economy hard.
"I will present this to the Egyptian people to renew confidence through free voting."
There was no official confirmation that Sisi will contest elections expected within six months. A statement from Egypt's military spokesman said comments that appeared in the Kuwaiti newspaper were not direct quotes from Sisi. But the spokesman did not deny that Sisi would run for president.
Mursi and his Muslim Brotherhood movement accuse Sisi of staging a coup and undermining democratic gains made since a popular uprising ousted autocrat Hosni Mubarak in 2011.
After deposing Mursi, Sisi unveiled a political roadmap meant to lead to free and fair elections.
But under his watch, security forces have mounted one of the fiercest crackdowns against the Brotherhood and stifled dissent, drawing fire from human rights groups.
About 1,000 Brotherhood members have been killed in the streets, top leaders have been jailed and the group has been declared a terrorist organisation.
July 31 (Bloomberg) -- It may be the biggest jewel heist in history: a notorious international gang of jewel thieves, dubbed the "Pink Panthers," struck again in Cannes this past weekend, lifting $136 million worth of jewels from an Israeli billionaire's hotel room. Bloomberg takes a look at some of their most mind-boggling heists.
Nigeria
ABUJA
— Nigeria's electoral commission has approved the merger of three main opposition parties into a bloc that could pose the most credible threat yet to the long-ruling party of President Goodluck Jonathan. Since nearly three decades of military dictatorship ended in 1999, the People's Democratic Party (PDP) has ruled more or less unchallenged, winning every presidential poll. But recent internal wrangling has weakened it, and the coalition of the Action Congress of Nigeria (ACN), All Nigeria People's Party (ANPP) and Congress of Progressive Change (CPC) is better funded and organized than any previous opponent. "The Independent National Electoral Commission has approved the application by three political parties — the ACN, ANPP and CPC — to merge into one, to be known as the All Progressive Congress," the commission said in a statement. A fourth party, the APGA, was also supposed to join to coalition, but it has yet to submit an application.
Zimbabwe
The executive Secretary of the Southern African Development Community (SADC) says Zimbabwean voters deserve praise following a peaceful general election on Wednesday.
"People were sending a clear message that that they are here basically to perform their duty as citizens of Zimbabwe. It was very calm and that is why I am saying that Zimbabweans deserve a huge commendation in that regard," said SADC executive secretary Tomaz Augusto Salomão. Salomão says Zimbabweans demonstrated that they are capable of organizing a peaceful vote despite predictions among skeptics that there could be violence during the vote. "It was peaceful, calm smooth and amazing," said Salomão. "We need to commend Zimbabweans because people came in huge numbers to the polling stations to vote." He says the SADC poll observer mission's preliminary report about the vote would be released on Friday. Salomão says it was too early for the regional bloc to give its full assessment of the vote so soon after it took place, but adds that the balloting went well despite the long lines. Zimbabwe's electoral body has until next Monday to release the results of the vote.
Officials in Mali are expected to release full provisional results of the country's presidential election on early Thursday after failing to declare the full result on Wednesday. Sunday's polling was seen as a first step toward Mali's recovery from a year-and-a-half of unrest. On Tuesday, territorial administration minister Colonel Moussa Sinko Coulibaly said partial results indicated that front-runner and former prime minister Ibrahim Boubacar Keita had a comfortable lead and could win an outright victory. He did not reveal the extent of the margin but said if it was maintained, there would be no need for a runoff vote. Coulibaly said with about one-third of the votes counted, former finance minister Soumaila Cisse was in second place.The other two top candidates are former prime minister Modibo Sidibe and a relative unknown, Dramane Dembele, who is backed by Mali's largest political party, ADEMA. News reports on Wednesday said some candidates have rejected election projections that could give Keita an outright win. Sunday's election was peaceful and had a relatively high voter turnout, with some areas reporting it at more than 50 percent.
Mozambique
Mozambique says it is committed to fighting wildlife crime, especially elephant and rhino poaching. Thousands of elephants were killed in the country between 2009 and 2012. Poachers also use Mozambique as a base for regional criminal activities.
Mozambique has been under growing pressure to take a much tougher stand against poaching. Neighboring South Africa and conservation groups want the government to adhere to CITES, the Convention on International Trade in Endangered Species of Wild Fauna and Flora. A CITES meeting earlier this year in Thailand singled-out Mozambique for its lack of action on poaching.
"Mozambique increasingly has become one of the major exit points for both rhino horn and elephant ivory. We're facing a crisis for both species. And, in particular, the Vietnamese syndicates that are behind the rhino horn trade – it's very clear with the improved law enforcement effort being made in South Africa that they've moved next door to Mozambique," said Tom Milliken, elephant and rhino coordinator for TRAFFIC International, a wildlife trade monitoring network.
He said that action taken by Mozambique will have a direct effect on South Africa.
"Mozambique nationals are heavily involved in the poaching of rhinos in Kruger National Park, which is the premier wildlife site in South Africa. Hundreds of rhinos are being killed in that park and mostly by Mozambican nationals, who are crossing over the border killing the animals -- bringing the horns back --selling them to the Vietnamese syndicates behind the trade. And then the horns are leaving for Asia out of airports and seaports from Mozambique."
But poachers have taken a big toll within Mozambique itself.
"Mozambique's largest elephant population is in the north of the country along the Ravuma River in a place called the Niassa Game Reserve. This is the largest population hey have and it's a shared population with Tanzania. But we think just in the last three years or so about 2,500 elephants have probably been killed. I recently saw mortality data of carcasses that have been found. And we're sometimes seeing family groups of six to eight elephants all gunned down at the same time," he said.
DAKAR
The West African nation of Burkina Faso has seen a resumption of large-scale protests this month over high living costs and the controversial creation of a new Senate. Analysts say the protests point to a tense political environment in the run-up to elections in 2015, regardless of who is on the ballot. Thousands of opposition supporters gathered this past weekend for a march and rally in Burkina Faso's capital, Ouagadougou, to protest the selection of senators. The new Senate, approved by lawmakers in May, has been derided by the opposition as a tool for President Blaise Compaore to extend his hold on power. Compaore has been president for 26 years, but a rule on term limits would prohibit him from running again in 2015. By creating a Senate staffed mostly by his supporters, President Compaore could engineer a revision of the constitution without going through the process of a popular referendum. Opposition lawmaker Saran Sereme said such a move would violate the wishes of voters. She said, "Today the strong mobilization of demonstrators sends a clear message. We want a peaceful Burkina Faso, but we also want a country where the people are listened to." She says "When the people are not listened to, then you have a problem."
In the contest for international capital and resources, better stories are still being told about other markets. Despite high optimism, high growth and high returns, the perception gap still exists and the African continent. There is clearly still work to be done by Africans - to better articulate and "sell" the African growth story.
Our
survey
of more than 500 investors and business leaders highlights the stubborn perception gap that continues to hamper efforts to attract investment into the continent.
While awareness of its qualities is generally improving, Africa is still viewed as a relatively unattractive investment destination compared to most other geographical regions. This year, we have taken our analysis one step further, and split the responses between those already doing business on the continent and those yet to make an investment. The results are startling. Those already doing business on the continent were overwhelmingly positive, ranking Africa's relative attractiveness above every other region except Asia (and even then, only marginally so). In stark contrast, respondents with no business presence in Africa were overwhelmingly negative. In fact, for these respondents, the continent is viewed as by far the least attractive investment destination in the world. They cite risk factors such as political instability, corruption and security as major obstacles. This represents not so much a gap, as a chasm between perception and reality. The facts tell a different story — one of reform, progress and growth. These trends are repositioning the continent and individual African economies as viable alternatives to other emerging
market investment
destinations that are often viewed in a far more favourable light. It is a positive story that demands telling and retelling. We have been subjected to negative stories about Africa for far too long. So there is still work to be done. Africans, and those with a passion for Africa, need to better articulate and "sell" the story of growth and investment opportunity. Africa's economic output has almost tripled since 2003, and the IMF forecasts that seven of the 10 fastest growing economies in the world over the
next
five years will be African. But the story is not just about economic growth. It is also about a long-term process of political, regulatory and social reform.
Dow Jones Industrial Average 13,825.33 +0.33% 13,779.33 13,879.66 13,779.33 16:37:51
S&P 500 Index 1,494.82 0.00% 1,494.81 1,502.27 1,489.46 16:36:54 NASDAQ Composite Index 3,130.38 -0.74% 3,125.67 3,153.56 3,124.45 17:11:01 Europe, Middle East & Africa Indexes EURO STOXX 50 Price EUR 2,722.96 +0.54% 2,707.85 2,724.67 2,692.15 17:03:04 FTSE 100 Index 6,264.91 +1.09% 6,197.64 6,271.40 6,186.48 11:35:31 Deutsche Borse AG German Stock Index DAX 7,748.13 +0.53% 7,700.53 7,753.30 7,661.96 12:30:31 Asia-Pacific Indexes Nikkei 225 10,620.87 +1.28% 10,441.11 10,634.74 10,441.11 01:28:01 Hong Kong Hang Seng Index 23,598.90 -0.15% 23,585.10 23,688.79 23,547.79 03:01:30 Shanghai Shenzhen CSI 300 Index 2,582.75 -0.95% 2,606.43 2,663.40 2,564.21 02:01:31 Futures Index Value % Change Open High Low Time

Americas Futures

DJIA INDEX FUTURE Mar13 13,781.00 +0.45% 13,706.00 13,815.00 13,703.00 17:15:00 S&P 500 FUTURE Mar13 1,491.80 +0.10% 1,484.00 1,497.50 1,483.40 17:15:00 NASDAQ 100 FUTURE Mar13 2,718.25 -1.48% 2,712.50 2,743.50 2,709.75 17:15:00 Europe, Middle East & Africa Futures EURO STOXX 50 Mar13 2,721.00 +0.55% 2,704.00 2,725.00 2,691.00 16:03:56 FTSE 100 IDX FUT Mar13 6,223.50 +1.02% 6,157.50 6,232.50 6,145.00 16:53:00 DAX INDEX FUTURE Mar13 7,751.50 +0.49% 7,705.00 7,759.50 7,661.50 16:03:55

Asia-Pacific Futures

NIKKEI 225 (OSE) Mar13 10,780.00 +1.41% 10,670.00 10,830.00 10,620.00 13:00:00 HANG SENG IDX FUT Jan13 23,607.00 -0.05% 23,528.00 23,700.00 23,512.00 03:14:59

More Stock Futures

Currency Value Change % Change Time EUR-USD 1.3372 -0.0005 -0.04% 17:28:36 USD-JPY 90.3700 +0.0400 +0.04% 17:28:52 GBP-USD 1.5787 -0.0004 -0.03% 17:28:49 AUD-USD 1.0451 0.0000 0.00% 17:28:17 USD-CAD 1.0022 -0.0004 -0.04% 17:27:55 USD-CHF 0.9289 0.0000 0.00% 17:28:20 EUR-JPY 120.8500 +0.0200 +0.02% 17:28:08 EUR-GBP 0.8471 -0.0001 -0.02% 17:28:37 USD-HKD 7.7532 -0.0002 -0.00% 17:28:36 EUR-CHF 1.2423 -0.0003 -0.03% 17:28:37 USD-KRW 1,068.8500 +2.6700 +0.25% 01/24/2013 More World Currencies Treasury Coupon Maturity Price/Yield Price/Yield Change Time U.S. Government Bonds 2-Year 0.1250 2014-12-31 99-25 / 0.2406 -0.0078 / +0.0042 17:00:00 10-Year 1.6250 2022-11-15 97.9922 / 1.8507 -0.2266 / +0.0257 17:00:00 30-Year 2.7500 2042-11-15 94.2813 / 3.0435 -0.4688 / +0.0249 17:00:00 U.K. Government Bonds 2-Year 5.0000 2014-09-07 107.4430 / 0.3684 -0.0155 / +0.0017 11:59:41 10-Year 1.7500 2022-09-07 97.7500 / 2.0085 -0.1680 / +0.0196 11:59:40 30-Year 4.5000 2042-12-07 123.6250 / 3.2567 -0.3650 / +0.0165 11:59:55 Japan Government Bonds 2-Year 0.1000 2015-01-15 100.0385 / 0.0790 -0.0145 / +0.0060 01/24/2013 10-Year 0.8000 2022-12-20 100.6825 / 0.7250 +0.0835 / -0.0100 01/24/2013 30-Year 1.9000 2042-09-20 98.7915 / 1.9640 -0.1105 / +0.0055 01/24/2013


Sunday, August 19th 2012
New Trogloraptor spiders discovered in US caves

Scientists in the United States say they have found a new family of spiders in the caves of California and Oregon. It is the first such discovery in North America for more than 140 years. Spanning more than seven centimetres with its legs extended, the 'Trogloraptor' or 'cave robber' has pointed fearsome claws. Curator of Arachnology at the California Academy of Sciences, Charles Griswold, told the Today programme presenter Sarah Montague that the discovery marked a "historic moment".
South African miners killed during strike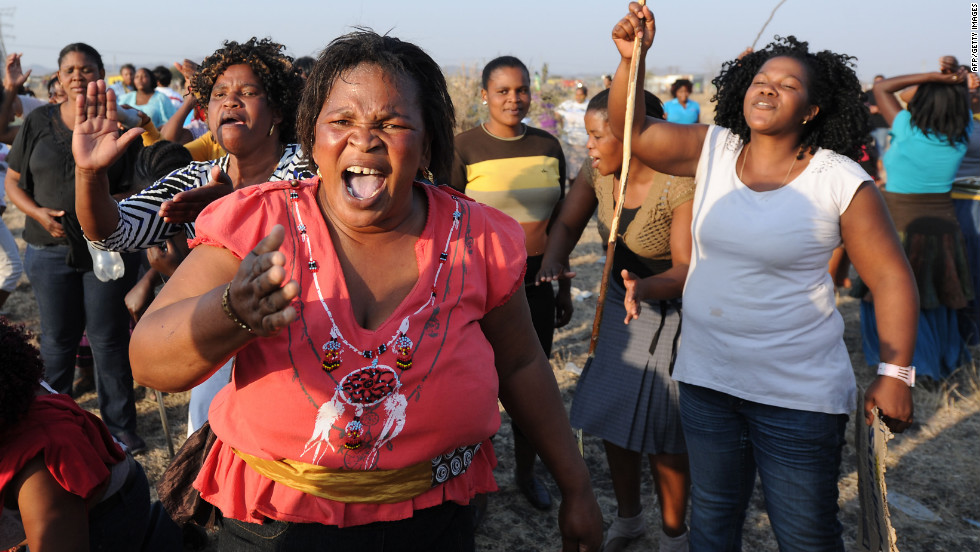 Protesters gather in Marikana, South Africa, on Friday, August 17, at the scene where 34 people died a day earlier after police opened fire on striking mineworkers. Police say they fired at the striking workers in self-defense. Marikana was one of the bloodiest incidents since the end of apartheid in 1994.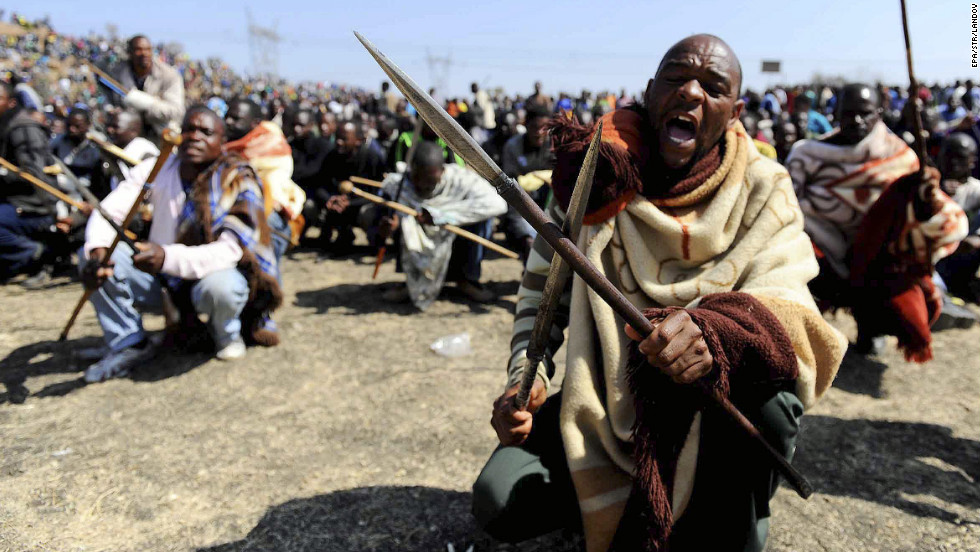 Sunday 8th May 20
Africa 'Vigilant' After Bin Laden's Death
Police in Kenya have beefed up security at the home President Obama's grandmother in Kenya, while Uganda, Tanzania and Nigeria are all readying themselves for retaliatory attacks after the death of bin Laden. Osama Bin Laden's death has come as a shock to many even as sceptics doubt that the enigmatic leader of the world's most dreaded terrorist network is indeed dead. But, will his death bring an end to the sustained terrorist attacks being experienced across the world?
INEC Declares Rochas Okorocha Winner of Imo Election
All Progressives Grand Alliance, APGA, governorship candidate, Rochas Okorocha, has won the Imo state gubernatorial elections. The final results announced by INEC Saturday morning, showed that the APGA candidate scored 336,859 votes with the incumbent governor Ikedi Ohakim scoring 290,490 votes. Supplementary governorship election were supposed to be held, yesterday, in four local councils and one ward in Imo State. However, election did not hold in Oguta local govt due to security threat.
19 candidates contested for the governorship position in the state.
Prof. Hillary Odoagah, Vice Chancellor of Michael Opara University of Agriculture Umudike and INEC's Returning Officer, announced the results. Summary of results ACN-107,068 votes, ANPP-3,313, APGA-336,859, APS-364, CDC-447, CPC-3063 DPP-563, LP-1549, NCP-790, PDP-290,490.
29 April 2011
Balcony kisses seal royal wedding
Prince William and Kate Middleton have kissed twice on the balcony of Buckingham Palace after their wedding service in Westminster Abbey.
They were cheered by 500,000 well-wishers who gathered outside the palace, as RAF planes flew past in honour of the new royal couple. In the evening the pair returned to the Palace for a dinner and dance, expected to continue into the early hours. The couple will now be known as the Duke and Duchess of Cambridge. Police estimate a million people lined the procession route from the abbey to the palace following the wedding. Prince William later drove his new bride back to Clarence House, following a buffet reception at Buckingham Palace, at the wheel of his father's classic blue Aston Martin, before returning to the palace in the evening. The vehicle was decked in ribbons and balloons with "Just Wed" on the number plate.
29 April 2011
US tornadoes: Barack Obama shocked by devastation
Click to play
US President Barack Obama has said he has "never seen devastation like this" after visiting a tornado-ravaged city in the south-eastern state of Alabama.
A British man was among the 15 people who died in a bomb attack on a cafe in Marrakesh, Morocco on Thursday, the Foreign Office has said.
While it has yet to officially confirm the man's identity, he has been named by Moroccan officials as Peter Moss. The website of the UK's Jewish Chronicle newspaper said Mr Moss, 59, was one of its former writers. The Foreign Office said that next of kin have been informed and his family has been given consular assistance. At least six of the other people killed in the attack were French, according to the French interior minister. Two Canadians, an Israeli, one Dutch national and two Moroccans were also killed. No group has so far said it carried out the attack in the major tourist spot. However, a video attributed to al-Qaeda in the Islamic Maghreb (Aqim), seen posted on the internet on Friday, included a threat to Morocco three days before the blast, according to the AFP news agency.
On This Week, a comprehensive and enlightening chronology of the events that took place in Egypt provided
Christiane Amanpour
with her first opportunity to prove on ABC airwaves exactly why she is an internationally respected journalist. From charging into crowds and interviewing Egyptians whether hostile or friendly, to securing interviews with virtually every person of importance in the country, Amanpour demonstrated the benefits of what being a reporter "on the ground" could actually accomplish. At one point Amanpour found herself surrounded by an "angry mob of pro-Mubarak supporters" who yell at her "we hate America," "I want you to go from here," and "you are not good person." Amanpour attempted to learn why exactly this mob hates Americans, but as they begin to chant "you are not with us" Amanpour smartly realized that it was time to take her exit. She then reveals that the pro-Mubarak crowd threw a rock at her car window, breaking the windshield.
With the story far from over, Amanpour is certainly establishing herself as someone with a deep knowledge of all the players and issues in the region, and as an intrepid reporter willing to brave danger in an attempt to bring multiple perspectives to light
.