CREDIT:

AFP
Britain is officially on its way out of the European Union after 44 years as a member after invoking a part of European law known as Article 50 on Wednesday.
What exactly happened?
Nine months after the UK voted to get out of the European Union in a referendum, Prime Minister Theresa May activated the official mechanism that will make it a reality - Article 50 of the Lisbon Treaty.
This was followed by a statement from Mrs May to the House of Commons, where she said now was "the moment for the country to come together".
What happens next?
Talks will get under way with EU officials. But the real hard work will not start until May or June when negotiations with other EU countries are expected to start. These talks are expected to end in autumn next year - and then MPs at Westminster, the European Council in Brussels, and the European Parliament will each get a vote on any deal that has been agreed.
So when does the UK actually leave?
The time-frame allowed in Article 50 is two years - and this can only be extended by unanimous agreement from all EU countries.
If no agreement is reached in two years, and no extension is agreed, the UK automatically leaves the EU and all existing agreements - including access to the single market - would cease to apply to the UK.
What is Article 50?
Article 50 is the plan for any country that wishes to exit the EU. It was created as part of the Treaty of Lisbon - an agreement signed up to by all EU states which became law in 2009. Before that treaty, there was no formal mechanism for a country to leave the EU.
It's pretty short - just five paragraphs - which spell out that any EU member state may decide to quit the EU, that it must notify the European Council and negotiate its withdrawal with the EU, that there are two years to reach an agreement - unless everyone agrees to extend it - and that the exiting state cannot take part in EU internal discussions about its departure.
Any exit deal must be approved by a "qualified majority" (72% of the remaining 27 EU states, representing 65% of the population) but must also get the backing of MEPs. The fifth paragraph raises the possibility of a state wanting to rejoin the EU having left it - that will be considered under Article 49.
Can it be reversed?
No country has ever left the EU and Article 50 does not explicitly say whether the process can be halted. The UK government has been unable to make any definitive legal statements on the issue.
However, in her speech to the House of Commons on Wednesday, Theresa May said "there can be no turning back" and in the recent UK Supreme Court case on Article 50, both sides assumed it was irrevocable.
But the European Council President Donald Tusk as said he believes Article 50 can be reversed.
On his side is veteran British diplomat Lord Kerr, who wrote Article 50. He told the BBC in November 2016 "you can change your mind while the process is going on". But he added he did not think any politician in Britain would allow such a U-turn.
Why was there such a long wait to trigger it?
May announced in October last year that she would formally notify the European Council by the end of March, arguing that she did not want to rush into the withdrawal process before UK objectives had been agreed.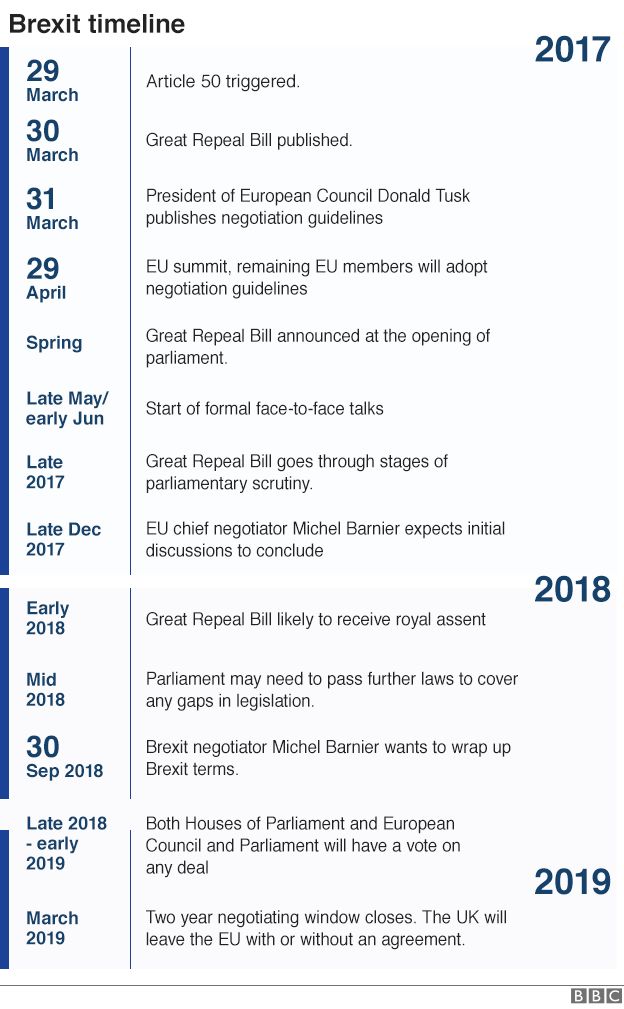 Follow us on Facebook:
http://www.facebook.com/pages/New-Generation-Africa/
Follow us on twitter: http://twitter.com/#!/Newgenafrica
Join our Blog: http://www.newgenerationafrica.com
WE ARE PROUD TO BE DIFFERENT! UNIQUELY AFRICAN NEW GENERATION!!
Imagination is more important than knowledge. For knowledge is limited, whereas imagination embraces the entire world ..... Albert Einstein