The Air Force One touched down shortly after 8pm. The journey from Washington DC took him to Ramstein Air Force Base in south-western Germany before he connected to Nairobi. Mr Obama is accompanied by his National Security Adviser Susan Rice, Foreign Policy aide Ben Rhodes and White House Spokesman Josh Earnest.
US President Barack Obama on Friday landed in Nairobi on his first trip to Kenya as President, ending a long wait for his arrival in the land of his father. He arrived in Kenya on the first visit to his ancestral home as serving US president.
During his two-day visit Mr Obama will hold talks with Kenyan President Uhuru Kenyatta and other top officials.

Trade will feature strongly, but Mr Obama also said he would deliver a "blunt message" to African leaders about gay rights and discrimination.The trip to Kenya and then Ethiopia is also designed to show US commitment to fighting terror in East Africa.
President Obama's plane, Air Force One, touched down at 8:02pm.
He emerged 18 minutes later and waved briefly at the door before meeting the small crowd that awaited him.

BROAD SMILE
In a black suit and a blue tie, and wearing his trademark broad smile, he then took a bouquet from eight-year-old Joan Wamaitha, a pupil at Mariakani Primary School in South C.
He then shook President Kenyatta's hand and embraced him before being introduced to a host of senior government officials, Mr Kenyatta's sons Jomo and Jaba and Mr Obama's half-sister, Auma.

The Kenya's government officials included Foreign Affairs Cabinet Secretary Amina Mohamed, Principal Secretary Karanja Kibicho, Defence CS Raychelle Omamo, National Assembly Speaker Justin Muturi, Chief of Staff Joseph Kinyua, Nairobi Governor Evans Kidero and Interior CS Joseph Nkaissery.

President Obama then warmly embraced his sister, with whom he later rode in his official limousine.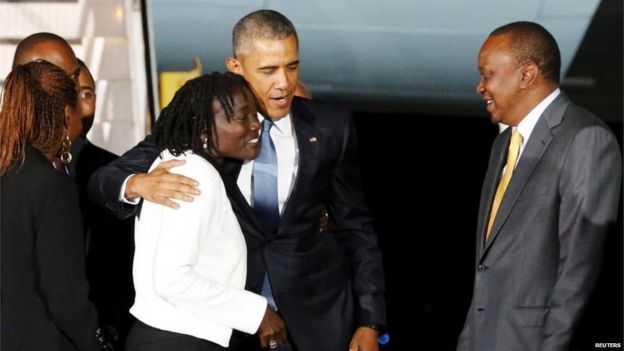 President Obama (centre) greets his half-sister Auma Obama
President Obama signed the visitors book, chatted briefly with President Kenyatta and was then directed towards his official vehicle, popularly known as The Beast.
On the car were flags of Kenya and the United States, perhaps a fitting symbol of the two countries that claim him; the United States as the country of his birth and Kenya, the land of his father.
Because of his paternity, Kenyans claim him as their son.

After President Obama's 35-vehicle convoy had left, President Kenyatta and his entourage milled about as they waited for their transport back into the city.
The President waited for his vehicles to arrive from the Presidential Pavilion.
The Streets of Nairobi and beyond was full of jubilant Kenya's welcoming one of their own and at the same time doing brisk business with all things Obama from T-shirts to posters.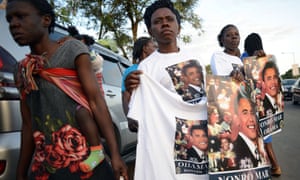 President Obama is in Nairobi for the Global Entrepreneurship Summit.
Before he arrived, JKIA was put on lockdown.The airspace was shut for about one hour, security tightened and everyone at Terminal Two, whether journalist or government official, screened, twice.

Whether US or Kenyan officials, the procedure was the same; you had to be screened.

Even Airport Security Manager Eric Kiraithe was inspected before he was allowed in.
The preparations to receive Mr Obama had been made long in advance and when, at 8pm, American Ambassador Robert Godec, Joan, his handler and Auma began walking towards the reception point, it became evident that President Obama had arrived.
The journey had taken President Obama from Washington to south-western Germany at the American Ramstein Air Force Base before he connected to Nairobi.

Mr Obama was also accompanied by his National Security Adviser Susan Rice, Foreign Policy aide Ben Rhodes and White House Spokesman Josh Earnest, House representatives, including members of the Black Caucus and senators.
The senators travelling with President Obama are Chris Coons, Jeff Flakes and Ed Markey. All except Mr Flakes are Democrats.

Representatives include Karen Bass, George Kenneth Butterfield, Eddie Bernice Johnson, Barbara Lee, Gregory Meeks, Charlie Rangel, Terri Sewell, Emanuel Cleaver, John Conyers, Marcia Fudge, Al Green, Sheila Jackson Lee, Robin Kelly, Gwen Moore, Donald Payne, Cedric Richmond and Bennie Thompson. Some of Mr Obama's officials had already arrived in Nairobi ahead of him. They include US Secretary of Commerce Penny Pritzker and Chief of Staff Jim Hock.

Obama has not yet been to Kenya during his White House tenure, with a previous trip delayed by Kenyatta's indictment for war crimes by the International Criminal Court.

Those charges were suspended last year - in part, prosecutors say, because the Kenyan government thwarted the investigation.

Obama's trip has also come under fire by rights groups, and more than 50 African and global human rights organisations have called on him to publicly meet democracy activists on the trip.

They voiced concerns about "grave and worsening" rights challenges in both Kenya and Ethiopia.

The charges against Kenyatta, and the fact that Ethiopia's government won 100 percent of parliamentary seats in a recent disputed election, has raised questions about whether Obama should have made the trip at all.

In Kenya, Obama will attend a Global Entrepreneurship Summit, aimed at promoting businesses that promise to lift many more Africans out of poverty and help insulate societies against radicalisation.

In Addis Ababa, Obama is expected to address leaders of the African Union, remarks that may touch on Africa's democratic deficit.

There are no official visits scheduled for Obama to see his relatives while in Kenya, officials said.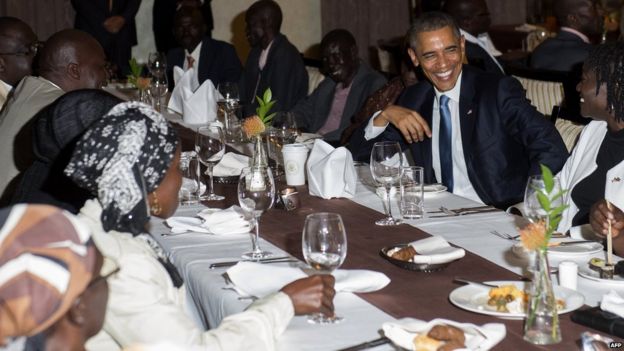 President Obama attends a gathering of family at his hotel in Nairobi.
The huge delegation could signify the importance Mr Obama is attaching to his first visit to Kenya as president.

Though his visit is not a state visit, the rituals at the JKIA indicated the Kenyan Government had turned it into one. Normally, the President may appoint someone else to usher in a visiting head of state if that leader is not on a state visit.
Follow us on Facebook:
http://www.facebook.com/pages/New-Generation-Africa/
Follow us on twitter: http://www.newgenerationafrica.com
Join our Blog: http://www.newgenerationafrica.com
WE ARE PROUD TO BE DIFFERENT! UNIQUELY AFRICAN NEW GENERATION!!
Imagination is more important than knowledge. For knowledge is limited, whereas imagination embraces the entire world ..... Albert Einstein