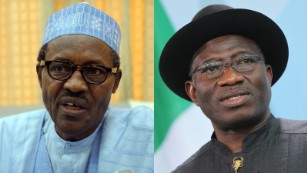 Elections in parts of Nigeria have been extended until Sunday after delays and a number of attacks.
Voting in Nigeria's presidential elections was extended one day, until Sunday, in several areas because ballot paper arrived late or new digital voting card readers failed, officials said Saturday.
The reading devices were being used for the first time in Nigeria to combat vote fraud, but it took even President Goodluck Jonathan more than 20 minutes to cast a ballot in his home state of Bayelsa because the scanner struggled to read his fingerprint.
Other areas saw delays in the delivery of ballot paper.
Further marring the presidential race were attacks by suspected Boko Haram militants on polling stations that killed at least 11 people, including voters waiting at polls. Also, hackers broke into the election commission's website.
The delays were "not widespread" but were still "a matter of concern", an election official told the our correspondent in Abuja
Technical problems with new biometric cards slowed down voter registration, even affecting President Goodluck Jonathan.
More than 20 people have reportedly been killed in various attacks by unknown gunmen.
Mr Jonathan is facing a strong challenge from Muhammadu Buhari.
The election is said to be the most closely fought since independence.

It was postponed from mid-February to allow the army time to recapture territory from the Islamist militants of Boko Haram.
The two main candidates had pledged to prevent violence during and in the aftermath of the elections.
But several hours after voting started, reports came in of violent incidents at polling stations in which at least 24 were reported to have been killed.
Other booths experienced technical glitches, leading to voting being extended to Sunday at "about 300 polling units out of about 150,000", a spokesman for the Independent National Electoral Commission (Inec) said.
At polling stations where voting was closed, officials began counting votes - with blackouts forcing some to use torches or car lights.
So who will win? I don't mean Goodluck Jonathan or Muhammadu Buhari. I'm talking about the forces of democracy here versus the assortment of groups busy trying to undermine this still-too-close-to-call election.
On Saturday we saw militant attacks, election officials abducted, stolen ballot boxes, a suspicious number of delays at some polling stations, and - although this may be more chaos than conspiracy - serious doubts raised about the efficacy of new voter registration machines.
In many countries all that might seem an overwhelming combination of negatives. But the positives should not be overlooked.
We've seen the impressive patience, discipline - and in the troubled north-east, pure courage - shown by most voters. Then there's the increasingly sophisticated coalition of election observers, armed with cameras and social media, furiously publishing data and hunting for irregularities.
Those positives may not be enough to guarantee this election is free and fair. But there's some reason for optimism. Whether the loser accepts defeat is, unfortunately, a rather different question. However what is absolutely clear is that
Millions of Nigerians turned out to vote, despite threats from Boko Haram to disrupt the poll.
"We have suffered enough, fled our homes after many attacks," said Roda Umar, a housewife from the former militant headquarters of Gwoza. "I'm ready to endure the pain to vote."
Follow us on Twitter:
http://twitter.com/#!/Newgenafrica
Follow us on Facebook:
http://www.facebook.com/pages/New-Generation-Africa/
Join our Blog: http://www.newgenerationafrica.com
WE ARE PROUD TO BE DIFFERENT! UNIQUELY NEW GENERATION!!
Imagination is more important than knowledge. For knowledge is limited, whereas imagination embraces the entire world ..... Albert Einstein