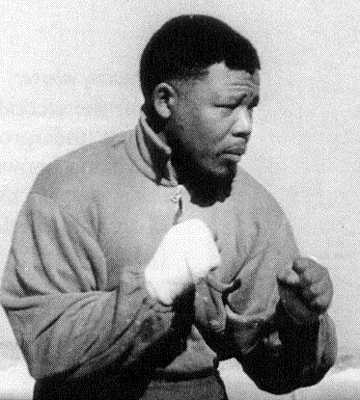 New Generation Africa:
Salutes Our Great Leader and Africa's favourite Son, Our thoughts and prayers are with you and your family. We wish you 'Happy Fathers Day' - Our Father - because of you, today we are, the new generation Africa
.
Johannesburg — Former president Nelson Mandela's health has shown sustained improvement, President Jacob Zuma said on Sunday.
Former South African President Nelson Mandela is engaging with his family and seeing improvement from the recurring lung infection that forced him to spend a ninth day in the hospital Sunday, the president said.
While still in a serious condition he had shown improvement over the last two days, Zuma said at a Youth Day celebration in Newcastle, KwaZulu-Natal, according to a copy of his speech.
"We are grateful that he continues to get better. Over the last two days, although [his condition] remains serious, his doctors have stated that his improvement has been sustained. He continues to engage with family."
Zuma invited all those present in Newcastle to keep Madiba in their thoughts and prayers. He wished Mandela a happy Father's Day.
"We love him and know that he loves us too."
As 94 year old former head of state continues to recover, family members continue to visit and well wishes continue to pour in.
Mandela's ex-wife Winnie Madikizela-Mandela arrived on Friday at the Pretoria hospital where he is being treated.
The African National Congress MP and her daughter Zindzi arrived at the Medi-Clinic Heart Hospital after midday in a black Audi fitted with blue police lights.
Earlier, Mandela's granddaughter Tukwini was spotted at the hospital, she was with three other relatives.
Security at the facility remained tight, with several police officers searching all vehicles entering the hospital's two entrances.
In a separate development:
Understands that a

statue of former president Nelson Mandela may be erected in front of the Cape Town city hall where he delivered his first speech after being released from prison, the Cape Times reported on Thursday.


Democratic Alliance

Councillor

Leonore van der Walt reportedly proposed at a council meeting on Wednesday that a naming committee be formed to discuss the process to be followed and funding.
Follow us on twitter: http://twitter.com/#!/Newgenafrica
Join our Blog: http://www.newgenerationafrica.com
Imagination is more important than knowledge. For knowledge is limited, whereas imagination embraces the entire world ..... Albert Einstein
WE ARE PROUD TO BE UNIQUELY AFRICAN! UNIQUELY NEW GENERATION!!