Chevron and Shell must pay $1bn each to deal with Niger Delta oil spills - New Generation Africa leading the campaign.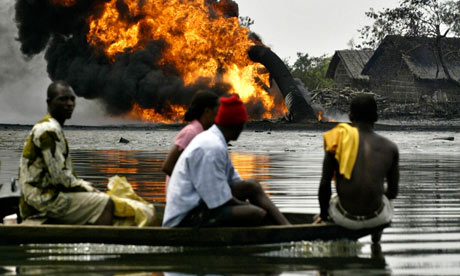 New Generation Africa is leading the campaign to get Chevron one of the biggest oil companies in the world to pay up a minimum of $1 billion towards the cleaning of oil spills devastating the Niger Delta area of Nigeria.
Chevron must make well their Corporate Slogan, promise and current advertising campaign "WE AGREE. DO YOU?" -
You might be surprised to see how many things we can agree on. For a company like Chevron who wants to make the world believe it cares for the environment and is committed to providing support and improving the quality of life of communities where it carries out its business activities, surely with the oil rig fire raging and devastating communities and the environment in Bayelsa State, Chevron should be doing more and leading the challenge to save our environment.
The SPDC is a Shell-run joint venture between the Nigerian National Petroleum Corporation, which holds 55%, Shell, which holds 30%, EPNL 10% and Agip, with 5%.
Amnesty said the community's UK lawyers suggested the spill had leaked 4,000 barrels a day for 10 weeks, which would make it bigger than the 1989 Exxon Valdez spill in Alaska.
"Those who used to rely on fishing for a living have lost their incomes and livelihoods. Farmers say their harvests are smaller than before. Overall, people in Bodo are now much less able to grow their own food or catch fish," the report said.
The Unep said the region needs the world's largest ever oil clean-up, costing an initial $1bn and taking 30 years – proposing that each of the partners of the SPDC pay its share, based on their stake in the operator.
Amnesty urged SPDC to set up a $1bn clean up fund, citing Bodo as an example of a place needing urgent attention.
Shell stopped pumping oil from most of Ogoniland after a campaign led by Saro-Wiwa, a writer and activist, but it continues to be the dominant player in the Niger Delta.
"SPDC has publicly acknowledged that two oil spills that affected the Bodo community in 2008 were caused by operational issues," Shell spokesman Precious Okolobo said, adding Shell estimated the total size of the spill to be 4,000 barrels.
"The reality is that our efforts to undertake cleanup in Bodo have been hampered by the repeated impact of sabotage and bunkering spills," he added.
Oil is often spilled during sabotage attacks on facilities and bunkering – tapping pipelines to steal crude. Okolobo said 150,000 barrels of oil are stolen each day in the Delta.
"If Amnesty really wanted to make a difference … it would join with us in calling for more action to address this criminal activity, which is responsible for the majority of spills."
But Amnesty said even if some spills were caused by theft, "this does not justify a failure to clean up after an oil spill – all oil companies are required to do so, regardless of cause."
Follow us on twitter:
http://twitter.com/#!/Newgenafrica
Join our blog:
http://www.newgenerationafrica.com/
WE ARE PROUD TO BE UNIQUELY AFRICAN! UNIQUELY YOU!!