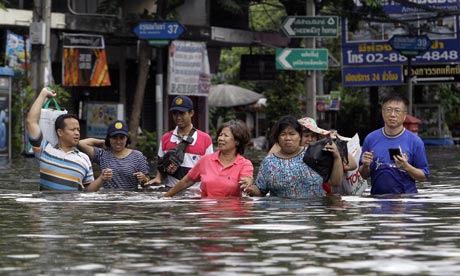 The centre of Bangkok may dodge the worst floods to hit
Thailand
in nearly 60 years, the country's prime minister has said.
Yingluck Shinawatra said flood defences shielding the city's centre mainly held as the coastal high tides hit their peak on Saturday, although the outskirts and much of the countryside remain submerged.
Shinawatra said floodwaters had started to recede but high tides in the Gulf of Thailand would continue to test Bangkok's flood defences. "We have the good news that the situation in the central region has improved as run-off water gradually decreased," the prime minister said in a TV address.
"I thank people and urge them to be more patient in case this weekend is significant because of the high tide. If things go on like this, we expect floodwater in Bangkok to recede within the first week of November."
Almost 400 people have been killed since the floods began in July, submerging entire towns across the country's heartland. Many Bangkok residents have fled to beach resorts unaffected by the
flooding
. Those who remain face a shortage of bottled water and unconfirmed reports that crocodiles from outlying areas may have arrived in the city's swollen watercourses.
The capital's main waterway, the Chao Phraya river, overflowed its banks in some areas during unusually high tides set to last until Monday.
City official Adisak Kantee said the capital's 2.5m (8ft) high concrete flood barriers "are efficiently protecting Bangkok from deluge". "The situation is so far under control," he said, but added thatthe smaller dykes may yet be breached.
Seven of Bangkok's 50 districts in the northern outskirts are heavily flooded, and residents have fled aboard bamboo rafts and army trucks and by wading in waist-deep water. Eight other districts have seen less serious flooding.
The government has warned that Thailand may lose a quarter of its main rice crop, which could increase prices from the world's top exporter of the grain.
Follow us on twitter:
http://twitter.com/#!/Newgenafrica
Visit our partner site:
http://www.ckrbs.co.uk/
WE ARE PROUD TO BE UNIQUELY AFRICAN! UNIQUELY YOU!!