Notificazione ..

English Translation below: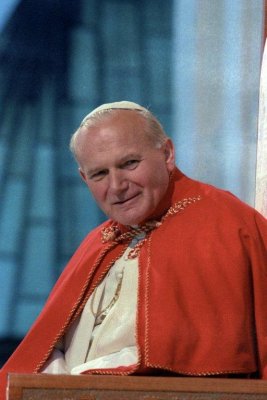 Il 1° maggio 2011, II Domenica di Pasqua
e della Divina Misericordia, alle ore 10, il Santo Padre Benedetto XVI presiederà la Celebrazione Eucaristica sul sagrato della Basilica Vaticana e proclamerà Beato il Servo di Dio
GIOVANNI PAOLO II, Papa.
* * *
I Signori Cardinali che desiderano concelebrare, vorranno trovarsi presso la Cappella della Presentazione (Altare di San Pio X) nella Basilica Vaticana alle ore 9.15, portando con sé la mitra ornata nuova; per coloro che non l'avessero ancora ricevuta, sarà messa a disposizione dalla Sagrestia Pontificia.
* * *
Tutti coloro che, in conformità al Motu Proprio «
Pontificalis Domus
», compongono la Cappella Pontificia e desiderano partecipare alla celebrazione liturgica, sono pregati di trovarsi alle ore 9.30 in Piazza San Pietro per occupare il posto che verrà loro indicato.
Quanto all'abito, vorranno attenersi alle seguenti indicazioni:
- i Signori Cardinali, i Patriarchi, gli Arcivescovi ed i Vescovi sulla veste propria indosseranno il rocchetto e la mozzetta;
- gli Abati e i Religiosi: il proprio abito corale;
- i Prelati: il rocchetto e la mantelletta, o la cotta, sopra la veste paonazza con fascia paonazza, a seconda del proprio grado;
- i Cappellani di Sua Santità: la cotta sopra la talare filettata con fascia paonazza;
- i Prelati, gli Officiali e i Consultori della Congregazione delle Cause dei Santi: il proprio abito corale.
Città del Vaticano, 19 marzo 2011.
Per mandato del Santo Padre
Mons. Guido Marini
Maestro delle Celebrazioni Liturgiche Pontificie
See the English Translation below:
HOLY MASS
Notification for the beatification of Servant of God John Paul II (1920 - 2005)
On 1 May 2011,
Second Sunday of Easter and Divine Mercy at 10 am, the Holy Father Benedict XVI will preside at the Mass on the parvis of the Basilica
Vatican and proclaim the Blessed Servant of God John Paul II,
Pope * * * The Cardinals who want to celebrate together, want to be at the Chapel of the Presentation (Altar of St Pius X) in the Vatican Basilica at 9.15 am, carrying the miter
newly decorated, for those who have not yet received, will be made available by the Pontifical Sacristy.
* * *
All those who, in accordance with the Motu Proprio "Pontificalis Domus', comprising the Papal Chapel and want to participate in the liturgical celebration are asked to meet at 9:30 in St. Peter's Square to occupy the place that they will be shown.
As for the dress, they will want to follow these guidelines: - the Cardinals, Patriarchs, Archbishops and Bishops in the garment's wear the spool and the mozzetta - Abbots and religious: their choir dress - the Collection:
spool and the cape, or cooked over a red robe with purple band, depending on their level - Chaplains of His Holiness the surplice over a cassock threaded with purple band - the prelates, the Officers and Consultants of the Congregation
Causes of Saints, their choir dress
Follow us on twitter:
http://twitter.com/#!/Newgenafrica
Visit our partner site:
http://www.ckrbs.co.uk/
WE ARE PROUD TO BE UNIQUELY AFRICAN! UNIQUELY YOU!!