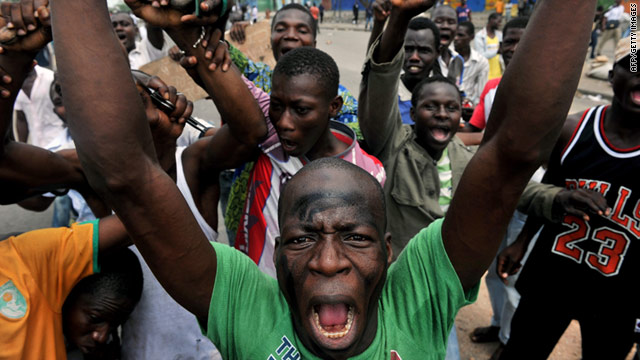 A video posted online documents in chilling, graphic detail the transformation Thursday of a peaceful demonstration in the Ivory Coast city of Abidjan to a slaughter by what appear to be forces loyal to self-proclaimed President Laurent Gbabgo.
U.S. officials said Friday that the attack left seven women dead, but Gbagbo rival Alassane Ouattara put the death toll at 12, including a child, with another 110 people wounded.
The video was broadcast widely on opposition television in the Ivory Coast. CNN staffers familiar with Abidjan said the video appeared to have been recorded in the capital city.
The video, about eight minutes, is posted on YouTube. In it, hundreds of people, most of them women dressed in brightly colored garb, are seen smiling, chanting, playing horns, blowing whistles and dancing. Many of them are carrying signs with slogans written in French that refer to Gbagbo as "assassin" and "robber of power." One of them holds a poster declaring Gbagbo's rival, former Prime Minister Alassane Ouattara, as president. None of them appears to be carrying a weapon.
Dark clouds hang low.
But the chanting soon stops, replaced by an eerie quiet, as the hand-held camera turns away from the crowd and focuses on the approach of a convoy of three camouflage-painted armored vehicles, one of them bearing the word "Police."
Without any apparent warning, a volley of three bursts from a heavy-caliber gun pierces the quiet, followed by screams as the marchers, including whoever is holding the camera, run from the street, leaving behind pavement littered with flip-flops, clothing and tote bags.
To a soundtrack of wailing, the camera then makes its way toward individual mounds of flesh on the pavement, each steeped in a pool of red. One woman appears to have been decapitated; another has suffered a deep wound in the neck; yet another a deep wound in the back. The latter, her torso soaked in red, tries to raise her head from the pavement but soon gives up, lowering back down.
A spokesman for Gbagbo, Sylvere Nebout, said in a telephone interview that he knew nothing about the video, but added that this is "as usual, a manipulation from the opposition."
He forwarded a statement from army spokesman Col. Hilaire Babri Gohourou, which aired Friday night on television. It denied involvement of defense and security forces. "These charges are necessarily false and without any ground," he said, adding that no security and defense forces had been in the area of the attack -- the Abidjan suburb of Abobo -- on Thursday.
In a statement, U.S. Secretary of State Hillary Clinton said Friday that the United States "strongly condemns Laurent Gbagbo's acts of violence perpetrated against the people of Cote d'Ivoire, including his security forces' attack yesterday on unarmed women demonstrators that left seven dead. Gbagbo and his forces have shown a callous disregard for human life and the rule of law, preying on the unarmed and the innocent. He should step aside immediately in the name of peace."
She called for an immediate end to the violence. "Military leaders, regime officials, and others responsible for directing or committing violent acts against civilians will have to answer for their actions," she said.
Follow us on twitter:
http://twitter.com/Newgenafrica
Visit our partner site:
http://www.ckrbs.co.uk/
WE ARE PROUD TO BE UNIQUELY AFRICAN! UNIQUELY YOU!!